Barista Beth: From Lunch Lady to Coffee Making Queen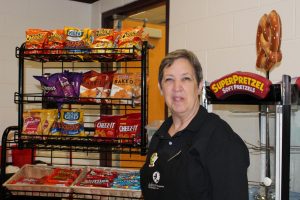 Whenever the name "Beth" is mentioned in the halls of RB it is immediately met with a smile. "Everyone knows Beth!" Victoria Rockwell '20 says.
Elizabeth Anne Deering has been dedicated to providing lunches to the students of RB for about 13 years now. Over the years has become a favorite to many of the students. "She's honestly the sweetest lady ever," Ryan Kochan '18 said.
Recently, she started offering students a new beverage in her al la carte stand: iced lattes. They quickly have become popular around the school. Nearly every passing period you can spot someone sipping on the whipped cream topped latte through their green straw. Beth's inspiration came from the company she works for.
"They tested it in other schools and thought it would be a good fit for Richmond so they brought it in and put it here," Deering said.
They sent her the recipe and she started serving them up.
"I think we will  sell them as long as people keep buying them!"
With Starbucks annual revenues being around $10.7 billion, it's fair to say that Beth's drinks have a chance of making it.
She hopes to try and make more flavors in the future. Currently, she makes mocha, vanilla, caramel, English toffee and pumpkin spice.
"I was hoping for this month to have peppermint but unfortunately the company has not given me anything where I can order stuff at this point. Hopefully, when we come back in January they are up and rolling and I can have a whole menu of what I can order."
With or without the drinks, the students will always love Beth.
Aidan Hannigan '20 said, "She always knows everybody's name and what we want. I have three different orders and she knows all of them."
She says her favorite part of her job is the kids. She works to remember nearly everyone's names and what they usually get. "Most of the time it's just repetition of remembering faces and what they go with. I think I have a good memory for an old lady."